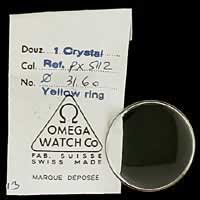 Al writes,
Re: 1945 US Army Omega 2179/?

Hello, I have inherited One of these watches, and will probably be sending it to Time&Gold in Vancouver for service. I think it would benefit from having the crystal replaced as the original is badly scratched up. I was wondering if You might know the size of crystal I would need? I have located a genuine Omega crystal #2191 – 30.6mm, is this one correct? Thanks or any help You can offer. – Al
Hi Al,
Replacing or sometimes even just polishing an unsightly crystal is a great way to quickly and inexpensively improve the look of a vintage watch. It's along the lines of replacing the tires or wiper blades on a vintage car and won't distrurb the watch's originality or authenticity. I'm not sure of the exact dimensions or part number, but 30.6mm sounds about right to me. Just make sure it has the white metal "armored" tension ring on the underside.
It's also worth considering that many watchmakers may be reluctant to install customer-supplied parts for watches, and for some pretty good reasons. For one thing if the watchmaker is to be expected to put his name and guarantee behind the work it only stands to reason that he ought to be allowed to choose the proper part according to his own experience and expertise.
As well, in order to keep an Omega parts account alive watchmakers are frequently required to "turn" a certain amount of stock to make it worth Omega's trouble to supply them, so supplying your own parts can in effect deprive them of their ability to continue providing genuine parts to their customers.
And in all honesty, for the most part it's usually not necessary to source your own parts for watches. Unless it's an especially uncommon model many parts (especially crystals) can still be attained through normal distribution channels. And in the case of the 2179/2384 Omega "US ARMY" models, these were essentially off-the-shelf models that share enormous commonality with the rest of the civilian Omega lineup of the era and parts are still widely available.
I hope this answers your question.