Full disclosure: I may have a degree of bias here, so I'll leave you to decide the facts for yourself. After all, as alluded to in a previous post, I still have something of a chip on my shoulder with Antiquorum over some problematic (to say the least) watches that went to sale in the 2007 "Omegamania" thematic auction and in previous auctions.
And if recent events serve as a guide, it would seem for good reason.
Yes, another fake was found in an Antiquorum auction, this time in the catalog for the auction this past weekend (Nov 14-15).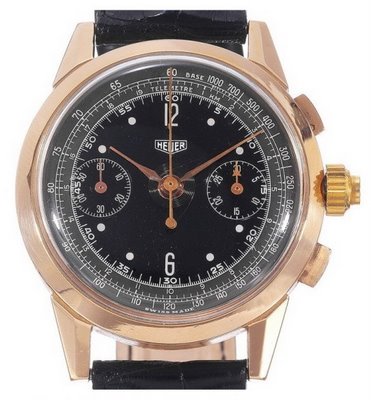 Jeff Stein did a really good writeup at OnTheDash.com cataloging all the reasons to doubt the authenticity of Lot 39. As I have nowhere near his expertise with Heuer chronographs I see little utility in duplicating his efforts, but I'll attempt to summarize briefly: it's not a Heuer.
The "Index Mobile" technology was essentially a "poor man's" version of a rattrapante or split-seconds complication developed by Dubey and Schaldenbrand shortly after WWII. By using a center-mounted coil hairspring to return the split-seconds hand, the movement used a clever if somewhat inelegant solution to a problem which otherwise requires complex and expensive designs to achieve the same functionality.
And really, there's nothing wrong with the movement. There's even something endearing about the novelty of the approach and the degree of relative exclusivity. In many regards such a watch would make an interesting addition to a vintage chronograph collection.
Just not a Heuer collection.
Despite being marked and described as such, it's not a Heuer. And Antiquorum, though well aware of the problem leading up to the sale was determined to go through with the auction.
I could even forgive the initial mistake. Admittedly, checking the authenticity of all aspects and preparing listing descriptions for hundreds of lots is quite a challenge; I would have been challenged to do so to any degree of perfection even in the subject areas I have some knowledge of. And although Heuer's sport watches will garner the respect of even non-Heuer collectors, it's not quite a high-dollar marquee brand that might justify retaining an expert staff the way Patek or Vacheron might. It's even quite conceivable that the seller who consigned the watch to Antiquorum might not have known that the watch is inauthentic and might well have submitted it in good faith.
But in a sense that's exactly the problem: focus, experience, and expertise serving watch collectors is ostensibly Antiquorum's entire reason for being; it was the under-representation and lack of expertise in the major auction houses that gave rise to Antiquorum in the first place!
What's most alarming is the outrageous manner in which Antiquorum officials stuck to what had become an increasingly indefensible position even in the face of multiple expert opinions presented days in advance of the auction. To err is human; to err and refuse to acknowledge such in the face of evidence and still collect a sizeable fee might be termed fraudulent in other venues.
Once again Antiquorum has demonstrated a cheerful willingness to forego accuracy and transparency in their listings pursuit of bids and fees. There just isn't any other explanation for it.
Antiquorum's efforts to address the criticisms of the watch in the days leading up to the sale were stunningly limited. The grading report of the movement was modified to include "later" and, with incomprehensible arrogance, "upgraded" as if the watch had somehow been improved by inauthenticity. The choice of placing changes in the movement description is puzzling, as so far as I'm aware aside from the addition of spurious Heuer-Leonidas markings on the bridge there had been no modifications of the movement at any point and it was otherwise likely in the same state as when it left D&S, nor was there ever really any question of such. It can only be interpreted as an attempt to mask authenticity shortcomings by burying them here.
A disclaimer "note: this watch was custom-made" was also added to the description text, a phrase which is ambiguous at best when applied in this context. Custom-made? By whom? Certainly not Heuer or D&S, at least not according to officials with first-hand knowledge of those companies' production during this period. Only under the most liberal, nosebleed-inducingly mind-bending interpretation of "custom-made" can this description be termed accurate, and its addition here is misleading at best.
Antiquorum pointed to this addition as a de facto admission and warning to bidders that the watch was a fake, though from this description it is unclear as to how bidders would be able to divine as such from their description alone. An additional excuse given for proceeding with the auction was that the seller had consigned the watch with no reserve, meaning that it could conceivably sell at any price, however low. Ostensibly this might imply that that the watch could sell at something approaching its actual value, and Antiquorum management took this as an opportunity to wash their hands of the matter and let the invisible hand of the free market bring about a "just" outcome, as if that were still possible giving the misleading description.
Instead Lot 39, the inauthentic Heuer Index-Mobile, sold at 2600.- CHF, to which a 20% buyer's premium is added for a total cost to the buyer of 3120.- CHF (about US$2100). Antiquorum also collects an additional 15% commission from the seller for a total of 910.- CHF (about $767) in fees. Honor goes cheaply these days, it seems.
Perhaps no one who has followed the trade of late can still be surprised by Antiquorum's antics at this point, but something about it still stings. The abject willingness to trade upon bidders' faith in their ostensible honesty and expertise is absolutely derelict. The lesson here is still caveat emptor: buyer beware, no matter the seller's ostensible reputation.
The worst of the this sale may be yet to come: unfortunately, the horrible fake "S.A.S" Omega Seamaster 300 sold last year has had a persistent impact. Sellers of problematic Seamaster 300s in following months have pointed to the presence of a like model in the Antiquorum catalog as evidence of authenticity. And presumably there are buyers out there who are being swayed by it.
How long before there's another Index-Mobile with a premier brand name presented at auction?