Or at Least Chuck's Terminology Does
Though I still have a sizeable chip on my shoulder with Antiquorum about the very questionable lots that went to sale in the Spring 2007 "Omegamania" thematic auction, another collector I know retains an interest in their latest upcoming action. Enough of an interest, in fact, to have planned a Martini-fueled auction-watch get together for that weekend, including the 5:00 AM session. Yes, apparently there are people who do such things. Should be a blast. :)
But anyway, though it's typically not my penchant I took a look through Anitquorum's online auction catalog, and in browsing through the listings I came across a few that really made me smile, though perhaps not for reasons that Antiquorum had intended. Take a gander at these lots in the upcoming Antiquorum Important Collectors' Wristwatches, Pocket Watches, Clocks & Horological Tools / Imperial Treasures auction on Nov. 15-16 2008:
LOT 458
"Anakin Skywalker" Omega, "Seamaster", Ref. ST 145.0023. Made in the 1970's. Fine and very rare, tonneau-shaped, water resistant, tungsten-bombarded "1200 Vickers" stainless steel wristwatch with round button chronograph, 12-hour and 30-minute registers, tachometer and a stainless steel Omega bracelet with deployant clasp. Accompanied by a recent Omega box.
LOT 459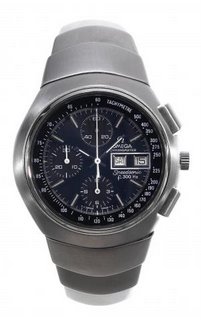 Speedsonic "Lobster" Omega "Chronometer, Speedsonic, 300 Hz", Ref. ST 188.0001 / 388.0800. Made circa 1975. Fine and rare stainless steel electronic wristwatch with square button chronograph, 12- hour and 30-minute registers, tachometer, day, date and Omega stainless steel "lobster" bracelet with deployant clasp. Accompanied by a recent Omega box.
Notice what seem like some bits of very curious terminology in there, oddly out of place for a high-falutin' Swiss auction? Seem a little out of place? "Anakin Skywalker?" "Lobster?"  What the hell?
The "Anakin Skywalker" and "Lobster" nicknames of course trace back to a clear and distinct source: Chuck Maddox. Though many of us knew him primarily through his chronograph collecting hobby, Chuck had a variety of diverse interests that he sometimes intertwined. Allowing his science fiction interest to overlap, Chuck endowed the the "Darth Vader Seamaster" name on his Omega Seamaster Chronograph 145.0023 since he thought it "a watch that would look completely at home at Darth Vader's wrist." The nickname took hold and has (evidently) now become commonplace in the parlance of the collecting world.
The "Anakin Skywalker" name for the similar tungsten-bombarded model of course came about through that odd transitive property of nomenclature. In Chuck's words, it was the "Seamaster that hasn't 'turned to the dark side', yet…"
Who imagined that this offhand, insider reference to one of his other hobbies would have such a widespread and lasting impact? At the time, it was just an in-joke among friends, or perhaps even just to himself that even predates my involvement in the watch collecting hobby. But now it appears to have been accepted as definitive nomenclature in the highest circles of collecting. Who knew?
The "Lobster" reference is perhaps less esoteric, owing simply to the distinctive appearance of the unusual Speedsonic ƒ300 Chronograph-Chronometer bracelet. Based on earlier 300Hz electric "tuning fork" technology that was arguably obsolete even on the day the oddball chronograph movement caliber design was conceived, the Speedsonic's distinctive design earned it a special place in Chuck's collection: its likeness became his avatar, the iconic image he chose to represent his online identity in watch forums. And of course since Omega has never used the "lobster" name in any of its literature, "lobster" might seem out of place to those who didn't know of Chuck Maddox.
On one hand, part of me starts to wonder if there's something at least a little unfair about uncredited use of Chuck's terminology by a for-profit entity to promote the commercial sale of a watch. But on the other hand, it's hard not to regard it as a severe compliment to the legacy of one of the greatest Omega collectors. What were once offhand, informal in-jokes amongst Chuck and his friends have now become part of the accepted lexicon in the highest circles of the hobby.
For what it's worth, attentive readers might also notice that though Antiquorum diligently included the lawyer-friendly "So-called" modifier when previously making uncredited use of Chuck's terminology in the "Omegamania" thematic auction catalog in 2007, they skipped it this time. And of course though Chuck if anything was slightly bemused at the usage, LucasArts might not feel the same about the use of their trademarked character name… ;)
Good Luck and Godspeed, Chuck.